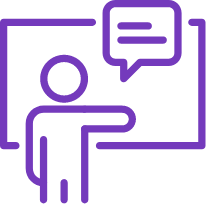 Schedule a free, on-site health presentation.
Our CHAs will come to your church, school, health department, or other facility, in person or virtually, to deliver no-cost health presentations and resources to groups of five or more. The presentations are available in English and Spanish.
For more information or to schedule a health presentation, call 410-762-5284.
Presentation topics include:
Allergies vs Viral Infections
Asthma 101
Budgeting 101
Childhood Essentials
Dealing with the Cold
Dental 101
Dental 101C (for children)
Diabetes 101
Eating Healthy on a Budget
Emergency Preparedness
Environmental Health 101
Healthy Habits
Heart Health
Heroin and Opioid Abuse
Immunizations
Injuries
Community Programs
Through community programs, you can work with people who understand your individual needs.
These include work training, safe housing, daycare and preschool, disaster relief, help paying for goods and services, and much more.